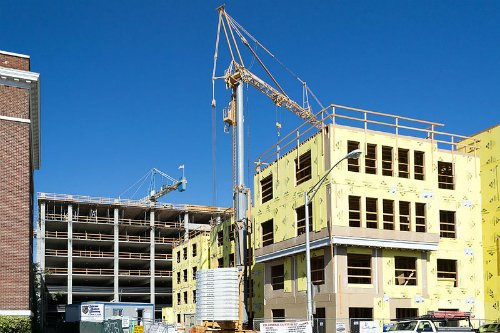 Weekly Roundup of Student Housing News
Here's what's happening in student housing…
Dayton, Fla.—New Addition to $17 million Initiative to Expand Student Housing at University of Daytona
President Dan Curran of the University of Dayton announced the construction of additional new homes in College Park. The university topped its former all-time record enrollment of 7,918 with 8,300 undergraduate students this fall. Curran indicated other efforts will soon include transforming the Roesch library into a multi-unit complex, and moving the Miami Valley Hospital from its current location near campus.
Philadelphia—Campus Apartments Invests $116M More into Student Housing
Campus Apartments has expanded its portfolio with 1,707 new beds in three separate college rental facilities: one at Texas A&M University, one at Syracuse University, and one at Lehigh University. Each boasts walkable proximity to the campus it serves and will be repositioned, renovated, and rebranded with further multimillion dollar upgrades by Campus Apartments.
Buffalo, N.Y.—New Development Milestone Cleared at SUNY Buffalo
The Buffalo Planning Board has given the official OK to Greenleaf & Co.'s proposal for a $75 million project's initial phase, which includes two buildings and some adjacent properties at 643 Grant Street. The first phase will result in 80 new apartments with room to house approximately 300 students. The total project looks to bring 616 beds to the Grant Street area.
Syracuse, N.Y.—Jim Boeheim Backs Student Housing Project at SU
Jim Boeheim became a partner in a six-story college rental facility on University Avenue that's slated for completion in June of 2016. The 54-apartment building will welcome 163 SU students into an upscale living environment imagined by SU grads Michael Edelman and Jared Hutter. Named #BLVD404, the building will include a Jim Boeheim Hall of Fame Room and other SU inspired design features.
Stillwater, Okla.—Greystar Student Living Accepts Management of Progress405
Progress Builders named Greystar student Living as managers over Progress 405, a 544-bed student housing community at 1520 North Boomer Road, adjacent to Oklahoma State University and Boone Pickens Stadium.
Hong Kong, China—LYCS Architecture Repurposes Hotel into Innovative Student Apartments
Rising rent and population density in China's biggest cities prompted LYCS Architecture to take a new approach to rental buildings with what they call "Campus Hong Kong." With only 27 square meters, designers managed to craft apartments complete with four beds, a dining/study space, a full kitchen and bathroom. Some of their innovations included designing beds that can be raised half-way to expose study desks underneath and blackout curtains in place of walls.
Tampa, Fla.—Clark Builders Group Capitalizes on 3-D Modeling Technology
An innovative new development is being built in an innovative new style near the University of South Florida in Tampa. The Clarke Builders Group is utilizing Denver-based tech company Prescient's patented 3-D modeling system to organize and plan for its seven-story, 163-unit student housing complex and parking garage with unprecedented precision.
Orlando, Fla.—Student Housing Units Reach Maximum Capacity at University of Central Florida
Students at the University of Central Florida have maxed out all housing options in the area according to area reports. With no new developments in the past year, student-housing developers are reported to be considering options in the downtown area. For now, prices continue to climb.
Youngstown, Ohio–Groundbreaking Ceremony Complete for New Student Housing at YSU
Youngstown State University broke ground on a 162-bed campus housing complex on Monday. The four story complex, dubbed University Edge, is a collaborative effort between YSU, Hallmark Campus Communities, and Fortress Real Estate Co. University Edge will be the first new student housing development at YSU since 2010.
Heard about something we missed? Leave us a comment so we can check it out!