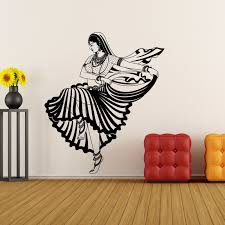 Using Wallpaper Decals; A Beginners Guide
Decorating a college apartment or dorm can be frustrating. A lot of complexes have rules about nails and hanging things on the wall that make decorating feel impossible.
A great solution to this is to use a wallpaper decal. These peel and stick decorations are easy to put on and even easier to remove.  Wallpaper decals can range in size, price and decoration, which make them ideal for any college student.
To apply them on your walls, follow these steps.
Pick the spot. This same seem redundant but different spaces fit different size wall decals. You want to be sure that the one you buy will fit.

Clean the selected area of dirt. Paint is perfectly fine under a wallpaper decal but dirt is not. Use household soap and water with a sponge to clean up any wall before application.

Measure your wallpaper decal against your final spot. Doing this allows you to ensure the decal is straight.

Place it onto the selected area. Be careful to line the decal up with your measurements.

Use a credit card or other hard object to smooth out the decal. This helps to fix air bubbles and ripples in the material.

Remove the backing paper slowly.
That's it. You're done and you've taken the walls from boring to exciting in just 6 steps.
Have a picture of your own wallpaper decal? Share it on Facebook and tag College Rentals.