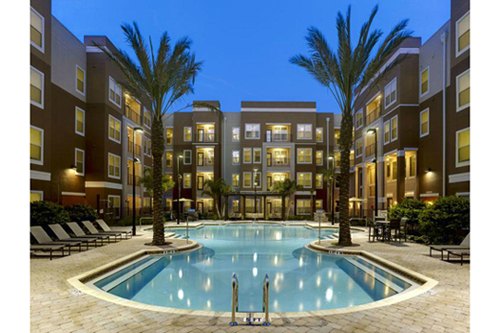 Orlando's Magnificent Marquee Apartments
If you're a student in Orlando looking for an exciting place to live while you attend school, then you should consider the Marquee Apartments. This eclectic apartment complex has everything you need for luxury off-campus living while you pursue your degree. The Marquee Apartments give you the freedom to enjoy your downtime however you choose. Amenities include 4 resort-style pools, 2 state-of-the art athletics centers, multiple high-powered tanning beds and a 129″ TV Wall with WiFi! Asset Campus Housing has recently taken over the management of the Marquee Apartments. As a nationwide company with more than 120 properties serving over 70,000 students, they truly know what it means to provide luxury off-campus living.
Marquee Apartments offer students efficiently modern apartments.
Marquee Apartments offer students seven different floor plan options. Floor plans range from 515 to 1420 square-feet of living space. A great feature about the Marquee, is that they are designed for a green social living environment. Reducing your carbon footprint can easily be done by using on-site recycling, low flow water fixtures and energy efficient lighting. These apartments offer plenty of common space to share, but your bathroom isn't one of them. That's right, private bathrooms for each resident! Every apartment is also fully furnished, so you save money and don't have to worry about the hassle of moving. Each bedroom includes a full-sized bed, end table, large desk and chair, dresser, a walk in closet and your own private bathroom. In the living area, you will find comfortable couches and even a TV stand. The kitchen comes fully equipped with energy-efficient appliances, a refrigerator, dishwasher and washer & dryer. They go above and beyond by offering 32″ TV's in each bedroom. These apartments start as low as $980 a month and include water, electric and 50 mega-bites of fiber optic internet and cable.
Marquee Apartments allow you the convenience of living close to campus!
One of the most convenient aspects of the Marquee Apartments, is how close they are to the University of Central Florida! They also provide students with a free shuttle to and from campus each day. Maybe you're a coffee lover? You can start each morning with a visit to the Marquee's gourmet coffee bar. The Marquee Apartments are designed so that you can live green and social while attending school. What better way to get social than by living with great roommates? That is why they offer a roommate matching service, to ensure that you're paired up with the ideal roommates! Marquee Apartments is ADA compliant, providing handicap accessible rooms and common areas. They also have a 24-hour emergency maintenance service to ensure that students are always comfortable and taken care of.
Be sure that you make the most out of your educational experience through a great living environment. Your productivity is important to your academic collegiate success. Contact us for more information on how you can optimize your college experience through luxury off-campus living!