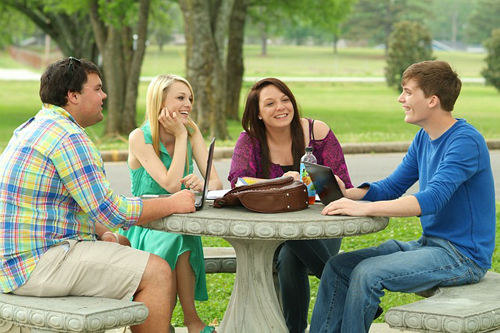 Developing Relationships Within a College Apartment Community
In order to make your college living experience better, you need to spend the time developing relationships within your college home environment.
It's not always a fun prospect searching for college apartments, but it's always worth your while to take some personal actions in making the process better. While you might feel rebellious at your college age, making conscientious decisions in creating worthwhile relationships while in your apartment helps toward goodwill. It also helps in giving you better opportunities in career ties and saving money.
Outside any romantic relationships you have, what platonic relationships should you nurture while in your college apartment? You have much more to consider beyond just your roommates.
Creating a Good Relationship with the Property Manager
It's always worth thinking about maintaining a good relationship with the person or people managing your apartment. This should already be established from the beginning by negotiating on rent or perhaps taking advantage of free rent offers for the first month. Some apartments near colleges offer these deals for students as a way to gain renters.
Be respectful of the apartment manager's who offer these student discounts. You may even have to negotiate further if something happens financially and you can't pay all your rent each month. Having a friendship with the manager makes negotiations easier, especially when you show good faith by paying as much rent money up front as you can.
The same goes for when you need maintenance done in the apartment. One of the worst experiences is requesting repairs and having it delayed or never done because the manager doesn't like you as a tenant. While everybody differs on politics and personal things, don't let this get in the way of staying on friendly terms with your owner-manager.
Much of this starts by following the rules and not being a rebel as college-age students sometimes are.
Creating Good Relationships with Neighbors
This is much more important than you realize, and you'll find many online who recommend it as part of your college apartment experience. In times of emergency, you can't necessarily depend on the manager-owner being available at all times. What happens if you have a major emergency, and the manager is away for a few days? While there might be a fill-in manager, it's a different story when it comes to preventing crime.
Much like neighborhood watch policies, by knowing your neighbors, you'll all work together to weed out any neighborhood crime issues. Conversely, they'll also know you better if you decide to have a wild party in your apartment.
Being a college student, partying is inevitable eventually, unless you're overly conservative or conscientious. If a party becomes unruly, your neighbors will already have your phone number if you gave it to them when first meeting. This saves a neighbor you don't know calling the police and potentially getting you in trouble.
Make an effort to get to know your neighbors when you first move in to your apartment. It doesn't hurt to invite them over to your place and provide refreshments so you set things off on the right foot. When they understand who you are, any misunderstandings get settled easier.
Creating Good Relationships with Your Roommates
Sustaining good relationships with your roommates is a given if you're going to live together for at least a year of your college lives. Vetting is probably the most useful concept there is when sharing your life with someone. Even if you might feel uneasy digging into someone's background, it doesn't hurt to investigate a roommate's history so you know they're honest.
You don't want someone who might steal things under your nose or has polar opposite views of your own. Both of these situations could lead to major fights down the road without some vetting.
When you have the right roommates, you'll nurture relationships that likely go beyond college and into lifelong friendships. It's also not out of the realm of possibility roommates marry one another since you'll probably spend more time together than you perhaps did with your own family.
How do you go about nurturing relationships in your apartment community? Let us know about your tips and strategies for maintain relationships.