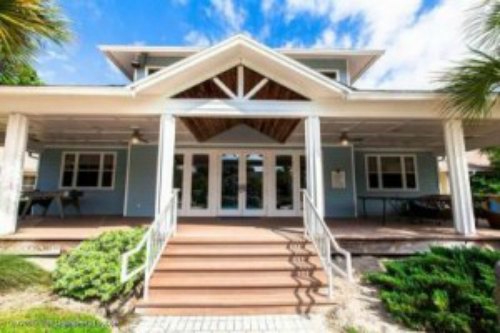 Cabana Beach Apartments
Looking for a trendy, eclectic place to call home while attending school in Gainesville, Florida? Establish your home base at Cabana Beach Apartments. This casual community meets the needs of college life, while providing a resort-style atmosphere that allows students to take full advantage of their down time. Cabana Beach recently came under the new management of Asset Campus Housing, a national company that provides housing to more than 70,000 students at over 120 properties. With a focus on top-notch amenities, affordable rates, functional floor plans and customer service, Cabana Beach is the ideal choice for today's student.
Modern, Stylish Apartments
Cabana Beach floor plans offer two and four bedroom fully furnished, contemporary apartments, ranging from 789 to 1331 square-feet of living space. The stylish and functional floor plans offer the perfect mix of privacy and collaboration. Each apartment has shared common areas, including screen patios and balconies, and private bedrooms and bathrooms. That's right. No sharing a bathroom. Each resident gets a full-sized bed, end table, large desk with chair and full-size walk-in closet. Energy-efficient, full-size washers, dryers and dishwashers are included in each apartment. Water/sewer, electricity and 50 megs of fiber optic Internet and cable are provided at no additional charge. Each apartment is equipped with central heat and air conditioning and ceiling fans. Pets are allowed with no weight restrictions. Affordable rates start at $384 per month.
Cabana Beach focuses on meeting its residents' needs. Do you need a roommate? Management helps match compatible roommates based on information collected from tenants. However, the community offers individual leases. So, tenants are not responsible for a roommate that may break a lease or become delinquent. Need a handicap accessible room? Cabana Beach is ADA compliant, providing accessible rooms and common areas. Maintenance staff work under a 24-hour emergency maintenance policy, so student comfort is regained as quickly as possible.
Secure and Relaxing Atmosphere
Cabana Beach is a gated community, offering peace of mind to both students and parents. While focusing on their studies, residents can use study rooms and lounge areas. The Student Center, which includes state-of-the-art touch screen computers and Mac stations, is also available for study space and free printing. In their down time, residents have access to numerous on-site amenities, including a basketball court, fitness center, game/media room and sand volleyball court. Stroll or jog the beautifully landscaped walkways or lounge in a hammock by the newly renovated resort-style pool. Interact with other students in one of the luxury common areas located around the property. Cabana Beach also offers numerous opportunities to meet other students at its resident events. Events do not just focus on making new friends, though. Cabana Beach's professional staff schedule opportunities for professional development too, including resume building classes. Want to host your own event? Cabana Beach has an on-site managed community clubhouse for residents to use.
Convenient Location
Cabana Beach is conveniently located to both the University of Florida and Sante Fe College. Plenty of parking is available for students with their own transportation. For those without a vehicle or just trying to conserve resources, students have access to three dedicated bus routes servicing both college campuses within minutes. Shops, restaurants, parks and grocery stores are within walking distance. View the property map to see exactly where the community is located.
Home environment has a direct bearing on productivity, regardless of your age or stage in life. Cabana Beach Apartments is dedicated to helping students build a good foundation for their education by providing a safe, functional and comfortable environment. Living off-campus allows students to experience freedom, form new friendships, receive the private time needed for dedicated study with fewer distractions, have more space and it's often less expensive. Additionally, students receive the preparation for life on their own after college. Start building a good foundation at Cabana Beach Apartments.