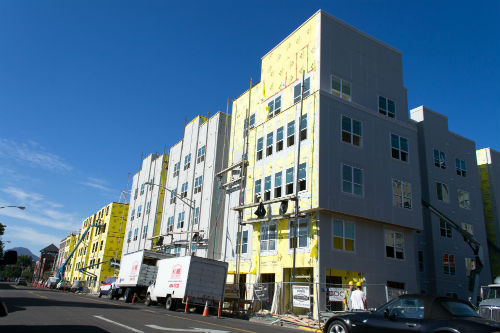 Weekly Roundup of Student Housing News
Here's what's happening in college rentals…
Providence, R.I. – City Passes Ordinance to Limit Student Occupancy in Single Family Homes
Mayor Jorge Elorza approved an ordinance pushed by the City Council of Providence, R.I. to place a cap on the number of students permitted to occupy single family homes. The legislation was introduced by Councilwoman Jo-Ann Ryan in an effort to reduce the amount of collegiate partying in neighborhoods near Rhode Island College and Providence College.
New Haven, Mass. – Multiple Fires in New Haven Student Houses
Four fires on two different scenes displaced students from the University of New Haven and Yale. The first fire was on Osborn Avenue and caused minor damages, and the second on Crown Street. Investigations into the cause of the fires is ongoing.
Fort Collins, Colo. – Capstone Cottages Back on Track in Fort Collins
Following a near 18-month postponement, plans are back in motion for a student housing development by Capstone Collegiate Communities in Fort Collins, CO. The facility is now expected to have 888 beds distributed among 201 townhouses, a slight jump from the originally proposed 840 beds in 195 homes.
Blacksburg, Va. – The Edge Apartment Homes Secures $48 Million Loan
Berkadia arranged for the 20-year fixed-rate loan with borrower Related Properties I LLC (affiliate to Campus Management Group). The Edge Apartment Homes is a Class A, newly constructed and fully occupied 252-unit development that houses Virginia Tech students in Blacksburg, VA.
Raleigh, N.C. – AIG Provides $75 Million Loan to New Construction
Development firm Kane Realty Corporation secured a 20-year fixed-rate loan for Stanhope, an 822-bed, 300-unit student housing complex. The new five-story building was completed in two years in response to the high demand for housing from three nearby colleges. CBRE Capital Markets arranged the loan.
Minneapolis – New Development Proposed for University of Minnesota Students
A six-story student housing complex has been proposed by Elsey Partners, a Kansas development company. The 201-apartment project would occupy a two-acre parcel near campus, replacing a piece of railroad track currently occupying the triangular shaped lot.
Marlton, N.J. – Student Housing Management Company Created by Michaels Organization
An expanding student housing portfolio has led The Michaels Organization to launch their new Student Housing Management Company, the ninth company in the Michaels family. The new management team will offer asset and property management services to The Michaels Organization's portfolio of more than 3,313 student housing units.
Something we missed? Add it in the comments section below!