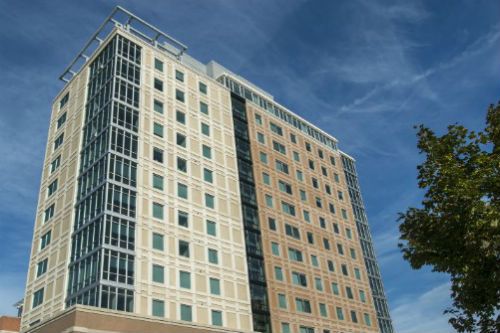 Weekly Roundup of Student Housing News
Here's what's happening in student housing…
Minneapolis—Opus Group Completes Three New Developments
The Opus Group has finished construction on three new luxury student housing complexes: ArborBLU of Ann Arbor, Mich.; The Foundry of Ames, Iowa; and District Flats of Columbia, Mo. Each development sits close to a major university and features upscale amenities such as garage parking, tanning facilities, and fitness centers, as well as upscale in-unit amenities like washers and dryers and flat screen televisions.
Boise, Idaho—EdR to Build and Manage $39.7 million Boise State Development
EdR and Boise State University have reached an agreement concerning the construction and management of the school's new Honors College and first year housing community. Construction will begin in the next two months with an approximate completion date of July 2017. EdR will maintain ownership over the facilities under a 50-year ground lease.
Ann Arbor, Mich.—Foundry Lofts Faces More Delays
The 14-story Foundry Lofts has been delayed for the second time in the past three months. The project was originally scheduled to open in fall of 2015, then pushed back by the management company, Cardinal Group, until winter semester. Construction on the high-rise that narrowly won city approval is now expected to be completed in time for the fall 2016 semester.
Savannah, Ga.—Joint Venture to Open New Student Housing in Savannah
A partnership of CampusWorks, Kaplan Residential, and the McKinney Fund & Co. has begun construction on The Blake, a student living facility in the Garden City. The 270-bed development will open on a 1.12 acre site less than one mile from Savannah College of Art and Design. Completion is scheduled for fall 2016 with Greystar Student living to manage the development.
Baton Rouge, La.—University House Adds Off-Campus LSU Student Community to Portfolio
Landmark Properties sold the purpose-built student living community known as The Standard Baton Rouge to University House Communities this week. The five-story, 287-unit facility will be rebranded as University House and will offer one-, two-, three-, four-, and five-bedroom floor plans, fully furnished and complete with upscale furnishings and amenities.
Waco, Texas—ACH Awarded Management of The View on 10th
Asset Campus Housing is taking over management of The View on 10th, a 718-bed complex serving students of Baylor University. The development is within walking distance of campus and offers fully furnished units, tanning booths, a multi-screen gaming room, and in-unit washers and dryers.
Indianapolis—Trinitas Breaks Ground on The Collegiate
Trinitas has begun construction on the a 669-bed student housing project to serve students of Indiana University and Purdue University Indianapolis. The 193-unit facility was designed by Ratio Architects and will offer one-, two-, three-, and four-bedroom fully furnished apartments.
Hear about something we missed? Add it in the comment section!