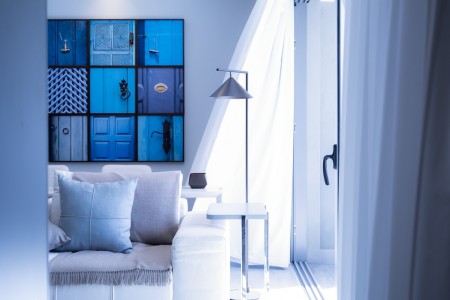 Tips For Decorating Your Studio Apartment
Living in any small space can be a challenge, but living in a studio apartment can add its own set of difficulties. It is important to maximize your space so you have a private place to sleep and a place to have guests over. This may seem impossible, but with the right accessories and organization, your space can be all you want it to be and so much more.
A petition for partitions
As you probably know, studio apartments are known for only having one room that is used for a bedroom and a living space without having rooms that are sectioned off for these purposes. However, these rooms do not necessarily need to completely overlap. Using partitions like curtains or room dividers can help give you privacy while creating space for guests. These kinds of dividers come in a variety of colors and styles, so you can choose one that fits with the style you want for your apartment. Just be sure to check with your landlord before making any big changes, especially ones that may involve hanging things from the ceiling. For spaces like your guest space and dining area, consider using non-traditional partitions like an area rug to help divide the space.
Functional furniture
While it is important that your furniture is comfortable to use and fits with your décor, when you have a studio apartment, it is also crucial that you use furniture that can also function as storage to help maximize space. For example, some tables have a compartment that acts as a chest or have shelves that can be used to hold items. You can even get a bookshelf without backing so that you can use both sides, and this can be used as a space divider. There are ottomans that also double as a storage unit that can be used as a place to store odds and ends.
Let there be light
Lighting in a studio is crucial for making your space seem bigger and less cramped. Darker rooms tend to feel a lot smaller, so making sure you have plenty of light is important. If possible, make the most of natural light that comes through any windows you may have. Close the curtains during the night for privacy, but open them during the day and let the sun in. On days that are gloomy or in instances that you do not have windows, have a variety of light sources such as lamps and overhead lighting to make the room as bright as possible.
Strange storage
When you live in a studio apartment, you have to be creative with your space. This often means coming up with unique storage options that you may not have thought of before. For example, you may want to opt to purchase or make under-sofa storage on wheels to optimize the space you have underneath your couch. Instead of buying a traditional bedside table, consider using stacked vintage suitcases and use them to store things such as seasonal clothes or holiday decorations so that these items are not taking up other crucial space.
Out of sight, out of mind
Trashcans are a necessary item, but they tend to not be the most attractive thing to have out in the open for all the world to see. Luckily, there are creative ways to hide them and make them appear a bit more stylish. One option is to have a pull-out trashcan in your kitchen. This functions like a drawer, but it has a trashcan and recycling can. That way, you have additional space in your kitchen and you will not have to worry about tripping over your trashcan.
Wall décor
While you may not want to clutter your walls too much, there are ways to use wall décor to help make your walls and look feel better. Hanging up mirrors reflects your room, making it feel bigger and that your room is extended. You should have at least one mirror in the common area of your studio apartment. Art is fine, but avoid hanging too much and be sure that it fits in with the rest of your décor. If you are allowed to paint your walls, opt for a lighter color. Darker colors make things feel smaller than they are, while lighter colors help brighten things up.
Embrace minimalism
One thing to remember in all of these tips is to not have too much, whether it is furniture or art. There are definitely tips for making your space feel bigger, but they are not substitutes for actually having enough space. Keep your belongings organized and in containers. When making purchases, think about whether or not you actually have the space for the purchase and if you actually need the item(s).
Having a studio apartment may seem difficult, especially when it comes to decorating and making your space seem bigger. With the right stuff and mindset, you can make it work!