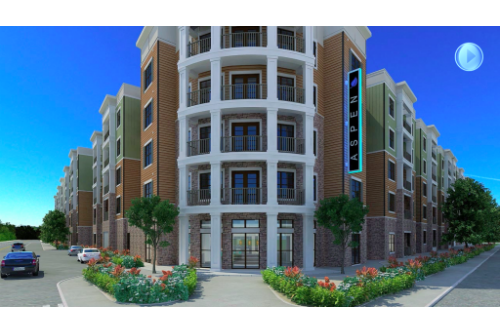 Springfield Student Housing Reaches New Heights
The title for biggest student housing development on the block is currently hotly contested in Springfield, Mo., where two large scale projects are underway to increase off-campus housing.
The first is the largest new project in decades to rise in the downtown area. In their new development, Aspen Springfield, Aspen Heights is constructing four, five-story structures to sit north of Missouri State University near Hammonds Field.
"Aspen Heights picked Springfield because it's one of the biggest growing communities in the Midwest as far as bringing more students in," explains Sofia Caito, marketing associate for Aspen Heights. "Some evidence of this, for example, happened recently when some residents at MSU were moved to the Plaza because they didn't have enough student housing. They are needing places for students to move off campus to after they do their time in the residence halls. It's a good opportunity for a development going up."
The 166 unit facility will bring a whopping 564 new beds to the area for students at MSU, Drury University, and Evangel University. There's even a parking garage for all resident vehicles.
Aspen Springfield will offer 2-, 3-, and 4-bedroom floorplans, with individual leases offered by the bed starting at $584 per month, which includes most utilities. The impressive amenities package—including a pool, hot tub, outdoor grills, full workout room, sand volleyball court, huge study rooms and conference rooms, as well as private patios and washer/dryer units in each apartment—was hand-picked for the development by area students.
"We conducted over 1,000 focus groups before we even started building," Caito describes. "We met with students across Missouri State, Drury, Evangel, and asked them what they wanted in student housing. We put everything they wanted into considerations when building Aspen.
"So really, it was built by students of Springfield."
Aspen Springfield will open its doors in time for the fall 2016 semester, when it will officially claim the crown for largest student development in Springfield. But it won't wear it for long.
Further south, Bear Village Apartments is prepping for further expansion on its property at Kimborough and Grand Street. The Bear Village development currently offers around 300 beds, but is in the first stage of a multi-phase construction process that will more than double that number.
The first phase of construction will add 83 new beds and is slated for completion in fall 2016. The full project won't be complete until 2017, when it will surpass Aspen Heights with 800 total student beds. The increase will offer more students access to Bear Village's extensive amenities package, including a pool, movie theater, sand volley ball court, fire pit, printing center, study rooms, grilling pavilion, and more.
By Aug. 2017, Springfield will look to have more than 1,000 new student beds.