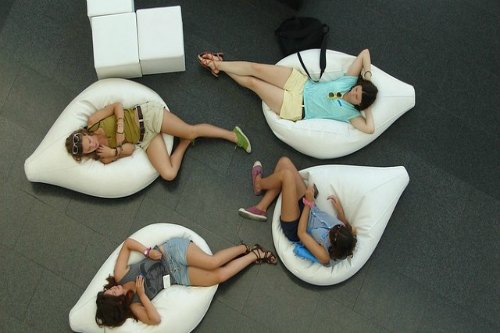 Sharing Space with Roommates in College Apartments
Whether you wish to live with a friend or simply need a way to cut the cost of rent, living with roommates can be an experience that is both rewarding and agitating. As with dorms, dividing space in college apartments can require a bit of ingenuity. However, there are some differences that distinguish space dilemmas in shared apartments from those of dorms.
In an apartment, you usually have more wiggle room. You now have a kitchen and living area, perhaps even a separate study space if you really luck out. On the other hand, many college apartments promise three or more bedrooms, meaning you may find yourself with crowded living quarters compared to the one-roommate situation during your dorm-days.
Whether you have one roommate or five, the following tips can help you carve out your own space within your apartment:
Sharing Space
Creative room dividers
If one or more of your roommates wish to occupy a room you frequent, you can establish a friendly division of space with a room divider. This doesn't have to be a traditional, screen divider. You can instead use a backless bookshelf or install drapes on either side of the room, which can be drawn as much or little as necessary.
Storage, storage and more storage
When living with roommates, storage containers are your best friend. Especially in small spaces like the bathroom. There's nothing like being in a hurry and having to rummage for your stuff (deodorant and hairspray included) before you can get ready. You also don't want to fight over shampoo. To prevent any conflict, have each of your roommates (and yourself, of course) get their own storage container to place their toiletries in.
Establish separate "function areas" in each room
If room dividers aren't your style, you can benefit from creating separate functions within a room that is often occupied. For example, if most of your roommates hangout in the living room, you can designate one corner of the room as a reading nook, one as a media and entertainment area and one as a spot for lounging or listening to music.
Designate quiet spots for studying or alone time
When multiple people are sharing living space, things can get pretty rowdy. It would make sense for you to seek out some alone time, especially quiet time to reflect or study. This doesn't require much in the way of money. All you have to do is choose a secluded area within your apartment and set a time frame each day where it will be off-limits to anyone but you. So, if you know you need to study for two hours every night, ask your roommates if they could avoid using a certain room or area during that time. This way you have a couple hours of uninterrupted silence to keep you sane.
These are just a few tips to help you get started. If you have any personal suggestions or experience in shared-apartment living, please, feel free to share your stories in the comment section below.