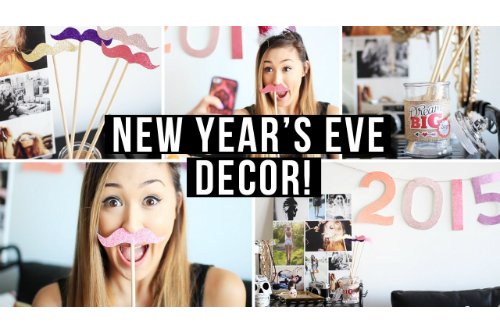 New Year's Eve Party Decorations for Your College Apartment
Do you plan on hosting a New Year's Eve party at your college apartment? If so, check out this awesome video for some DIY decorations that are easy to do! These decorations will definitely spruce up your apartment and create the perfect New Year's party atmosphere.
Since New Year's Eve is only in a few short days, that doesn't leave a lot of time for planning, especially if you were thrown into this last minute. You shouldn't worry about pulling off an awesome party for you and some friends.
Here are some tips on how to throw an awesome New Year's Eve party:
New Year's Eve Food

Ask your friends to bring over an appetizer or dessert!
Order a pizza and have your friends chip in a couple of bucks.
Don't forget some champagne or sparkling juice (and maybe some fancy plastic cups)

New Year's Eve Entertainment

If you are inviting your friends over early in the night, you can pop in a movie.
Games like Apples to Apples, Cards Against Humanity, and Charades are easy and will definitely end up with the crowd chuckling.
This may be your last chance to listen to your favorite winter tunes before the holiday season has ended, so blast that holiday music (but definitely keep it quite enough so your neighbors don't complain).
Turn on your TV so you and all your friends can watch the ball drop at midnight!

New Year's Eve Safety

Fireworks are a fun way to end the night. If you plan on setting off fireworks, make sure you check your state laws to see which fireworks (if any) are allowed. Also make sure to have a bucket of water to dump on the firework incase something goes wrong.
Make sure you know the number to the taxi company/safe ride organization in case your friends have been drinking. AAA is one of the biggest organization that gives FREE (yes, free) safe ride homes on New Year's Eve. Check out their website to see if they operate in your college town.
What other tips or decorations ideas do you have for a New Year's Eve party? Share your decor or stories with us in the comment section below!