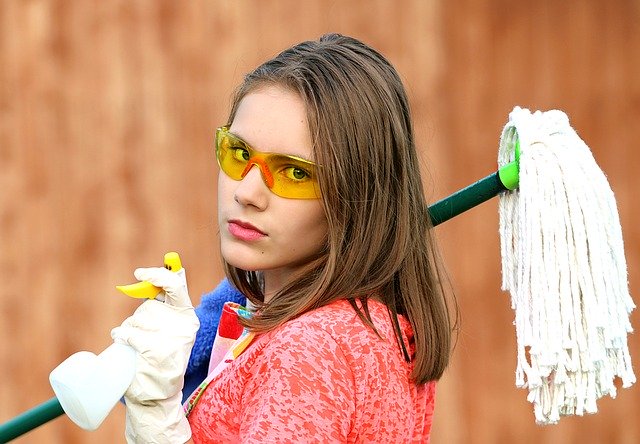 Keeping Your Apartment Rental Clean
Keeping Your Apartment Rental Clean
By Victoria Robertson
Staying neat, tidy and organized is difficult to do when you're living in an apartment, especially when you are living with roommates. However, when you are renting, it's not only your cleanliness that's on the line, but also your deposit.
In more cases than not, individuals end up losing their deposit (and paying additional costs) simply for cleaning their apartment to make it ready for the next students that will be moving in.
Rather than falling victim to this same trap, here are six ways to keep your apartment rental clean so you can save your money (and feel great in doing so)!
1. Dust Frequently
One of the biggest pitfalls of cleaning is that individuals don't dust (or at least, not nearly as often as they should). Dusting your apartment is not only going to prevent the sneezing fits that are sparked by dust accumulation, but it's also going to ensure your apartment is always clean enough for company.
Dusting takes a few minutes, and you and your roommates can even split up territory to get it done in as little as five minutes. Doing this at least once a week will ensure your space is clean, all the time!
2. Vacuum Weekly (or more)
Many students don't actually vacuum their apartments, and this is a mistake. You may not realize it, but anything beyond the normal "wear and tear" on your carpets is going to be charged back to you before you leave, as the leasing agency will need to replace the carpet for the next tenant.
For this reason, keeping a consistent schedule of once a week will ensure you are taking care of your carpet and constantly cleaning/picking up any crumbs or other items that you need to take care of.
3. Clear Drains
It's probably the worst of the tasks on this list, but it needs to be done in order to prevent plumbing issues and bills later on. Clearing your drains periodically helps keep your shower, sink and other drains from clogging up and creating water build-up issues.
These issues can cause damage that you aren't able to fix and will likely end up costing you more than they are worth, so putting in the small effort to run some cleaner down your drains once a month is well worth the effort in the long run.
4. Wipe Down Kitchen Surfaces
Your kitchen surfaces are one of the most important to keep clean, as this is where you can truly get sick if you aren't keeping them tidy. Not only do you need all utensils, dishes, pots and pans to be clean, but you also need the surfaces themselves to be clean.
This includes, but isn't limited to, your cutting boards, stovetop and oven. Oven and stovetop messes can cause fires, which will damage your apartment. In addition, cutting boards that are dirty can build up bacteria, which can make you sick, especially when you're dealing with raw meats.
Wiping these surfaces down every time you use them ensures that you don't get sick, and also that your safety is ensured.
5. Use Rugs
If you're the type of person that knows you'll spill on the carpet on occasion, or if you notice that your shoes are creating a mud bath in your entryway, you should consider getting rugs for your living space.
At the very least, you should have an entryway rug to collect all dust and dirt from outside. In addition, you can use rugs under your kitchen table, in your living room, and even in your bedrooms. This prevents negative wear and tear to your carpet, and also helps to prevent ruining carpets with spills and other accidents.
6. Invest in a Swiffer
Last, but definitely not least, you should invest in a Swiffer. While you should be vacuuming once a week at minimum, this will help you to keep any tiled surfaces clean as well, as a vacuum isn't enough to keep them clean.
This is another cleaning ritual you can do once a week, and it only takes a few minutes to run the mop over the surfaces that need it. And the more frequently you do it, the less time it will take to get those surfaces cleaned!
Keeping a rental clean is a bit of work, but so long as you are consistent, it's not too time-consuming. Plus, when you and your roommates work together to keep your living space clean, you'll feel empowered and happier in your own home.
The above six tips are a great starting point for keeping your apartment rental clean, but keep in mind there is always more that you can do to ensure your space is clean (and to also ensure that you and your roommates get your deposit back).
Happy cleaning!