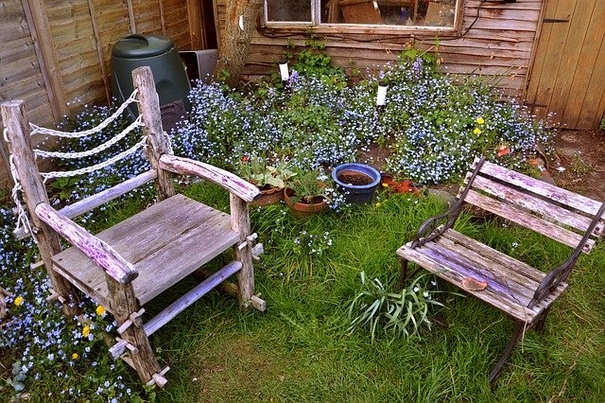 How to Decorate Your Outdoor Spaces
Now that summer is finally upon us, it's time to transform those outdoor spaces from the basic décor to an outdoor oasis that you actually want to spend time in all summer long!
That being said, it's hard enough to determine what furniture to purchase, but to top it all off, you need to organize everything into a setting that you look forward to visiting, day in and day out.
To help get you started, here are six decorating tips for getting your outdoor space to the perfection you strive for.
1. Outdoor Rugs
Nothing ties a space together quite like a rug, and outdoor rugs are no exception. That being said, you don't want to pick out any old rug and throw it on your patio or deck.
Instead, you'll need to choose an outdoor rug that suits your needs. If you're looking for weather-resistant rugs, year-round fabric that can stay out in the winter and colors that fit your scheme, finding the perfect piece may take more research than you originally considered.
That being said, once you have the perfect piece, everything else will fall into place.
2. Outdoor Seating
Lawn chairs are great for outdoor events and fireworks displays, but as backyard seating, you can certainly do better. Outdoor seating is a great way to decorate your space while simultaneously creating a functional space for entertaining your guests.
When looking at outdoor seating, you should consider tables, chairs and potentially couches, depending on the number of guests you plan on having. In addition, you should consider the material the furniture is made of, as weather-proof furniture is important, especially if you plan to leave everything outside during the winter due to a lack of storage space.
3. Umbrellas
Think about the last time you sat outside in direct sunlight on a hot day. Was it peaceful and fun, or hot and miserable? Odds are, it was the latter, and there wasn't a way to cool yourself off.
For that reason, you should consider making some shade in your outdoor space with umbrellas or other canopy-like pieces. While it may seem like an added cost that doesn't add much to a space, it could just be the difference between an outdoor barbecue and spending a nice, summer day in the house because it's a little too hot outside.
4. Plants
While you are typically surrounded by plants when seated outside, you still may encounter the issue of having no plants located near your outdoor entertaining area. Or rather, grass isn't going to cut it.
Instead, you should look at potted plants for your patio. While you don't want those that'll attract bugs near the house, you can look into plants that do well in lots of shade and add a pretty aesthetic to your outdoor space.
While fake plants are always an option in the house, when you're looking at the outdoors, it's best to go for the real deal.
5. Fire
Fire features are always a win, whether that's a grill, a firepit, or tiki torches. No matter what the choice, you'll be able to entertain well into the night and enjoy the fresh air without feeling cooped up.
That being said, there are always safety and feasibility concerns in this regard. For instance, you can't be too close to the house, but you'll also need to make a decision regarding features that need gas from the house or alternatives such as charcoal or propane.
If you're unfamiliar with the specifics, you can always do some research or talk to an individual at a home improvement store and they'll point you in the right direction for you.
6. Lighting
Last, but certainly not least, you'll want to look into some outdoor lighting. When you're entertaining at night, sitting in the dark just isn't an option. For that reason, many individuals opt for twinkle lights or bug-repellent candles.
In addition, you can look at lighting for your porch or deck, though that typically depends on your house/apartment and what lighting features are available to you. Typically, string lights are the best for an outdoor setting, as they add some atmosphere without requiring too much effort.
Again, outdoor spaces are a great time when warmer weather hits, but they can need quite a bit of work to ensure they really embody your summer patio/deck goals.
Just because you have an outdoor space doesn't mean that throwing some random lawn chairs out there is enough, especially if you're looking to build yourself an oasis that you can spend numerous days of sunshine in.
For that reason, the above six tips are a great starting point, but you should also do some digging into your personal style, searching for the perfect centerpieces and accent pieces for your summer oasis.
Happy decorating!