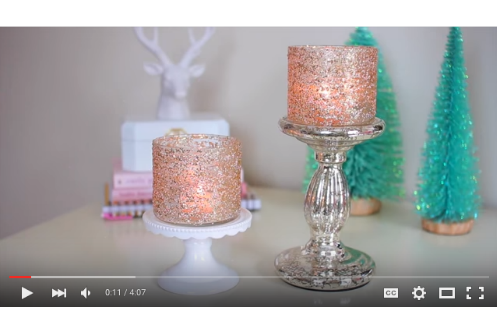 Winter DIY Decor for Your Student Apartment!
Winter time is upon us. This is probably one of the most stressful times of year for all college students. This week and next week are usually the "crunch" time to finish up your group or solo projects and cramming for those unwanted finals and presentations.
Between all that commotion, you should remember to take small breaks. Whether your spend your short break eating, going for a jog, or decorating, you will most likely feel refreshed and ready to get back in the grind of everything. If you decide to spend your break studying, you should choose something that you know you can make with items from around your house. That way, you won't distract yourself by making a trip to the store.
Since it is winter, we decided to share the perfect " small break" DIY decorative item to make. Not only is it perfect to make your room into a winter wonderland, but it can still look cute when it is not winter.
This candle can be made with many things lying around your house. If you have an old candle jar that you can't use anymore, repurpose it for the DIY decorative item. If you don't want to light an actual candle in your room, you can buy the inexpensive electronic candles at your local craft or big box store. It will still look pretty and you won't have to risk your college apartment burning down!
If you are looking for some other great winter DIY decorative items, check out the video we posted last week! You can find the video here. These decorative items are just as easy, and some even take a shorter time to make!
Let us know if you made some awesome winter crafts while you were taking a break from studying for finals! Share your decoration and tips in the comment section below.
Good luck with your finals!