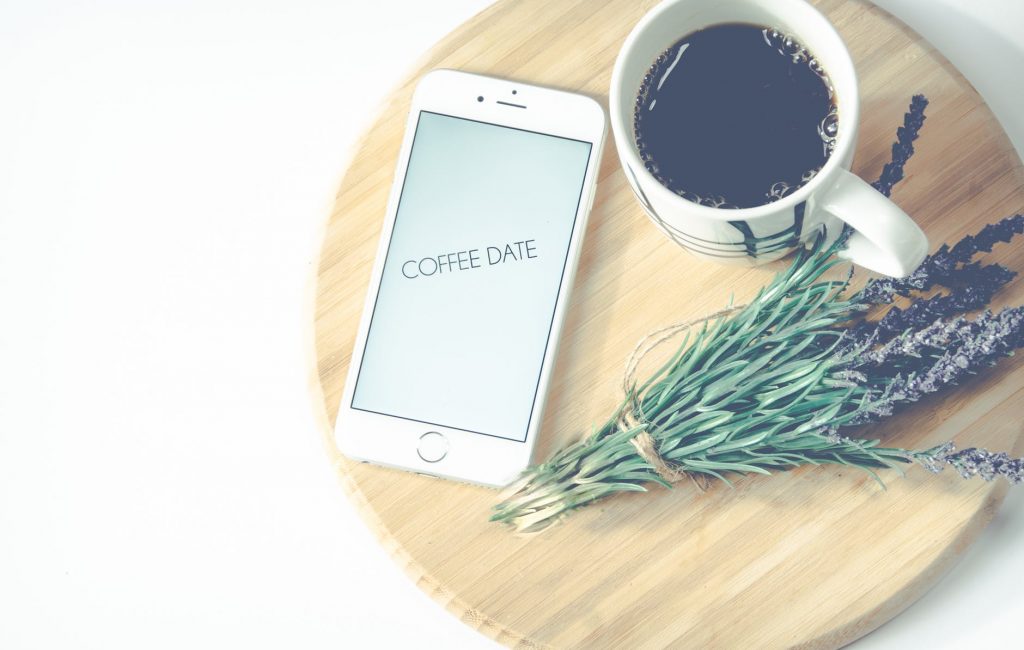 The Best Plants for Your Apartment
Deciding to add an indoor plant to your living space can be a great way to improve air quality and provide a sense of purpose to your life.
It is important to remember that a plant is a living thing and will require a certain amount of care in order to thrive. When choosing a plant, factor in how much time you are willing to spend on maintenance as well as how much light your living space is able to provide.
Let the Sunshine in
If you have a lot of windows or an area that lets in plenty of sunlight, Lavender, Bonsai, Aloe Vera, and cacti have the potential to be wonderful additions to your living space.
Scents of Peace: Lavender lets off a wonderful scent that can permeate your senses. The flower has been known to improve mood, relieve stress, and improve the quality of your sleep. The flowers of the plant itself can be used in tea or placed in a bubble bath in order to further activate its calming effects. These plants require a generous amount of light and will do well in smaller pots for indoor areas.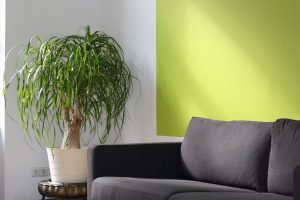 Bonsai of Relief: Tending to a Bonsai plant can be a great way to relieve stress, and the results can provide a wonderful sense of accomplishment. What's more, a well-maintained Bonsai is that perfect piece of natural artwork your apartment could be missing. Keep in mind, however, that Bonsais are extremely needy, and require constant attention to stay healthy. Put them near open windows and, if need-be, set alarms in your phone for when to tend them.
Aloe Love: If that seems like too much work, or if you simply don't have time to give your plants routine care, Aloe Vera is the one for you! As a succulent, Aloe are very resilient and can withstand a little neglect. They don't need very much water and reproduce easily, so you can share with friends or disperse them throughout your home.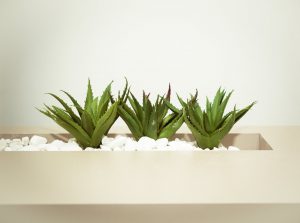 As far as the benefits, many people use the gel inside the leaves medicinally to treat burns and bug bites. Aloe also produce vast amounts of oxygen at night, so they're the perfect plant to have by your bed to improve the quality of your sleep. Just make sure you leave them by the window, cause these babies need lots of sun.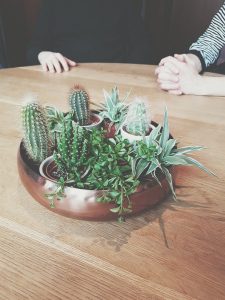 Desert-Dwelling Dehumidifiers: Cactus plants, such as the flowering Gymnocalcyium, are great indoor companions. Their blooms are very beautiful and quite large compared to the plant itself, making the cactus perfect for decorating. These plants also take up the very little space and are, like Aloe, super low-maintenance. A great place to put a cactus is by your window in the bathroom, where they can absorb moisture from the air. 
Not Scared of the Dark
If your living space lacks light, a Peace Lily, spider plant, or Bowstring Hemp is the way to go.
Lilies for Your Pad: Peace Lilies are known for their ability to improve indoor air quality. Its most helpful ability lies in removing mold, which is a very common cause of upper respiratory infections. These plants do well in low-light conditions and require only intermittent watering, making them relatively easy to care for.

House Spider: Spider plants are also able to thrive in low-light areas. They remove toxins like Formaldehyde, Benzene, Carbon Monoxide, and Xylene from the air. This plant does well in a medium-sized pot, which help it grow tall and have space to extend its leaves.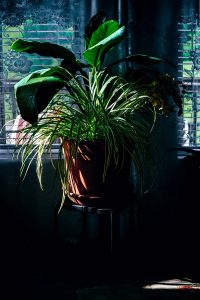 Bow-Wow: Bowstring Hemp, or snake plants, are very easy to grow and don't require much watering or sunlight. Though typically used ornamentally, these plants actually have several medicinal uses such as treatment for stomach aches, diarrhea, inflammation, and even weight loss!
A good plant can be a great companion, especially if your apartment doesn't allow pets. Not only does foliage dress things up a bit, but most naturally purify the air or can be used as aromatherapy. Find the plant that's right for you and breathe easy!
About the Author: Rachel Savering is a marketing student at Strayer University and will be graduating this spring with her Bachelor's Degree. In addition to being a student, she is also in sales as an assistant manager and enjoys helping others. Rachel is passionate about writing as well as an outdoor enthusiast who enjoys hiking and running.