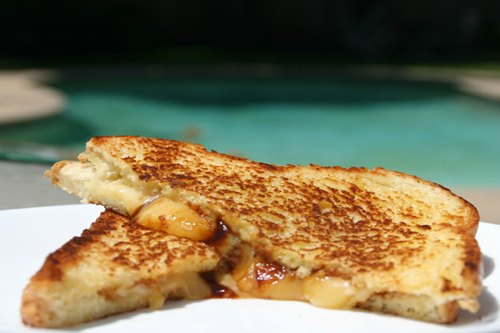 5 Tips on Making the Best Grilled Cheese
The warm and gooey grilled cheese is not only the perfect comfort food, but also an apartment living staple. It's easy to make and consistently delicious. Make this go-to sandwich even more exciting with these simple tips and tricks:
Vary your cheese. Replace your Kraft singles with something more up-scale, such as muenster, goat cheese, smoked Gouda or brie.
Add spice to your sandwich by using Pepper jack cheese and adding jalapenos. Attain a spicy nacho feel by including crushed corn chips, too.
Everything's better with bacon. Add three sizzling strips of bacon onto your grilled cheese with sliced tomatoes for an extra special sandwich.
Try different bread. A simple switch out from white Wonder bread to a more hearty, whole wheat or nutty 9-grain will add extra fiber and extra taste to your grilled cheese.
Soup on the side. Warm up a bowl of tomato bisque or red pepper soup to dip your classic grilled cheese into—pair with cold weather, and enjoy!
A grilled cheese is a college living staple. It's a cheap dish that takes very little time to make and tastes great.
Grilled cheese is a great way to get acquainted with the stove, especially if this is your first time away from home. The worst thing you can do to the sandwich is burn the bread, which in some cases will give you that extra crunch that you might even enjoy.
Under cooking the sandwich may not taste great, but it won't do any negative damage to your health. On the other hand, if you under cook an egg or chicken, you could risk getting very sick. Cooking a grilled cheese sandwich will also give you some flipping practice with the spatula, which will come in handy when you make eggs, pancakes, french toast, etc.
Have a grilled cheese recipe of your own? Let us know about them in the comment section below.