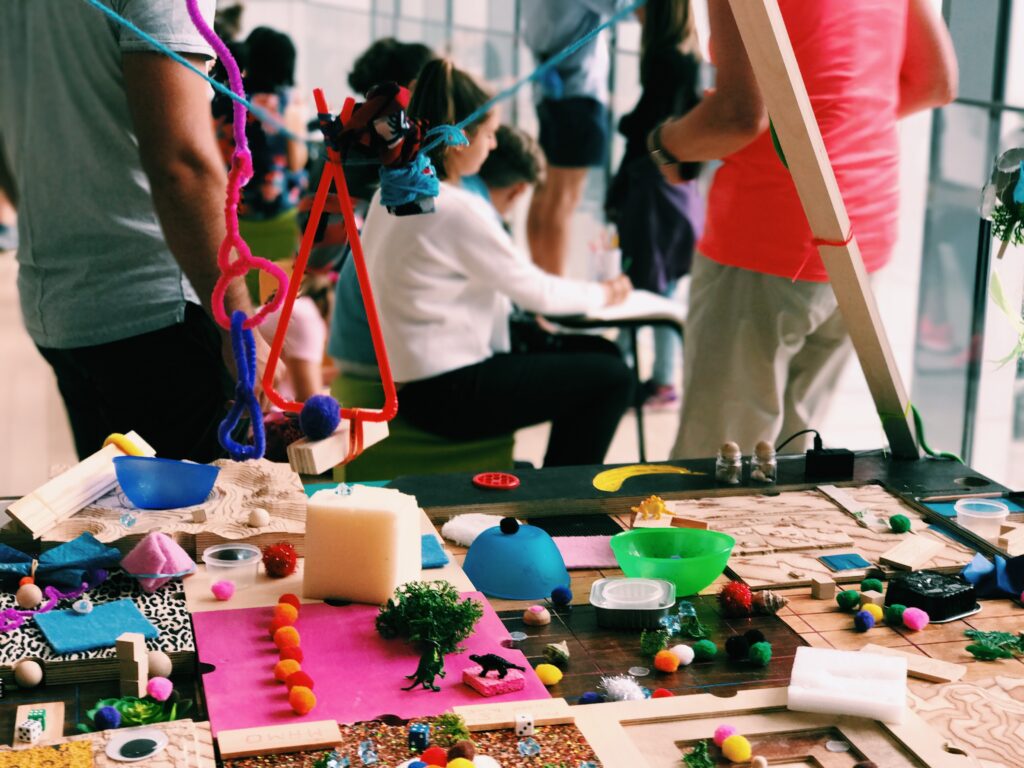 Fun DIY Projects in your College Apartment
Living in an apartment as a college student is one of the first times that you can decorate the space where you're living. However, as a college student, you'll find yourself decorating on a budget. This is where DIY projects come in handy!
When you decorate your apartment with DIY projects with your roommates, it saves you a ton of money, tests your creativity, and gives you and your roomies something to bond over and do together. So, if you're looking to spruce up your apartment but don't want to spend a ton of money, here are some great DIY projects for you and your roommate to do together.
Decorated Area Rug
Now that most apartments are built with hardwood floors, which makes them easier to maintain and clean, you probably feel inclined to make your floor a little cozier with an area rug. It's no secret that area rugs are expensive. Well, now you can have your own custom-made area rug with this fun DIY project.
Simply go to a Home Depot or Lowes and look for some carpeting. Then you can use acrylic paint to decorate it either with stencils or by freehand. Either way, you'll create a one of a kind decoration.
Framed Shelves
If you're looking for a quirky little DIY project to keep you busy one day, build yourself some framed shelves. These little box shelves have funky picture frames on the front of them to make it look like whatever is one the shelf is actually a picture.
You can store little knickknacks and trinkets or even succulent plants here. Browse thrift stores and flea markets for exquisite and unique frames to use.
Revamp Your Mirror
Are you tired of having a boring mirror? Use some fun fabric to give it some more color and life! Simply take the fabric and adhere it to the border of the mirror's frame. The hardest part is choosing which fabric you want to use.
Organize Your Spices in Jars
Start organizing your cluttered spice cabinet by making individual glass spice jars. Buy some chalkboard paint to make a square label on the jar so you can label each spice. You can then change the labels as needed!
You can go to any craft store, or even the Dollar Store to find little glass jars that you can use. Be creative! Then set them out on the counter to show off just how crafty and organized you and your roommate are with DIY projects.
Bar Cart
It's time to get a little classy with your college partying. Make yourself a fun and sophisticated bar cart to show off your drinkware and bottles. You can find an affordable cart at Ikea or Target to begin. Then paint the poles a gold color and add some twinkling lights to it. Organize and decorate as you see fit! It's going to be the center of every party, we're sure.
Dry-Erase Calendar
A great DIY project for the communal part of your apartment is a dry-erase calendar using a poster frame and some paint card samples from a home improvement store. Simply take a sheet of decorative paper or paint the back interior of the frame and glue the paint samples to create a calendar format. Then, when you put the frame together, you can use a dry-erase marker to fill in the month, days, and events happening.
It's a great way to keep track of what your roommates are up to!
Macramé Plant Hangers
Having house plants has been proven to increase happiness. So, why not make some macramé hangers to keep your plants in? These are great for little plants that you want to hang up by the kitchen sink or even in a corner of your bedroom.
This also gives you the freedom to choose whichever color and macramé design you want! It does require patience, but it also gets pretty addicting with the repetition, giving you and your roommate a ton of time to do some bonding.
Mosaic Plant Holders
If hanging plants isn't your style, then you can decorate the pots that your plants are already in. Get some mosaic tiles and glue them into fun designs on your pots. This will give your plants the pizzazz they deserve.
Bond with Your Roommate Over DIY Projects
Not only will these DIY projects turn your apartment's aesthetic up a notch, but you'll also have a great time doing them with your roommate! It gives you both a great chance to bond and make something that will benefit and enhance your apartment. You'll both be proud to show off just how creative you are. Who knows, it may even become a routine tradition to make things for your apartment!