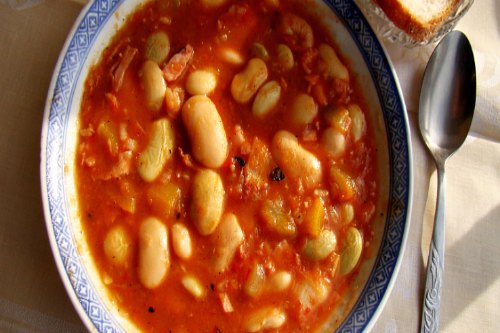 Recipes for College Students: Slow Cooker Meal Roundup
As a college student, you probably don't have a lot of time on your hands. If you're not rushing off to class or putting in a few extra hours at work to make some extra money, you're doing homework, trying to get through the reading or desperately attempting to get a little bit of sleep before you have to jump into your daily routine again. You don't have time to spend all day standing over your stove.
That's why your slow cooker is your best friend. Recipes for college students need to be fast, cheap, and simple to prepare and your slow cooker is all three. The benefits to a slow cooker are enormous. You can:
Prepare your meals first thing in the morning and come back to dinner that's already fixed;
Use cheaper cuts of meat, since slow cooking tenderizes them;
Make bigger batches of meals to refrigerate for later use;
Avoid the last-minute call for takeout when you realize that you don't have anything prepared for dinner;
Stretch your budget further, since you'll be willing to eat at home more often;
Spend less time in the kitchen focusing on your dinner; and
Eat whenever you're ready instead of rushing to have dinner prepared by a certain time.
There are plenty of slow cooker recipes out there that use inexpensive foods to make fantastic meals. Whether you're looking for a healthy option or a comfort food meal that will make you feel as though you're back in your mom's kitchen, there's a slow cooker meal out there for you. Try these favorites:
Slow Cooker Recipes for College Students
Slow Cooker Chicken Pot Pie Stew: This recipe is comfort food that you don't have to stress over. It's packed full of vegetables and chicken, giving you a healthy punch while still offering you a comfort food that will brighten up the dreariest day. Add some biscuits or mashed potatoes (out of the box will do if you're in a hurry or short on ingredients) and you have a meal that can't be beat.
Cashew Chicken: Find yourself reaching for the takeout menu to order Chinese a little too often? This cashew chicken is easy to prepare yourself and might just taste even better than the restaurant version. Even better, it's healthier.
Ham and Bean Soup: It doesn't get much cheaper than a recipe that uses beans as the primary source of protein and this recipe will stretch for several meals, especially if you're eating alone. It's a hearty, filling dinner that won't have you browsing through the kitchen looking for something to munch on an hour after dinner, which means that you'll be free to focus on more important things.
Chicken Tortilla Soup: Looking for a little Mexican flare in your evening meal? After you've tried this chicken tortilla soup, you'll never feel the need to go back to Taco Bell.
Cheesy Vegetable Chowder: Does your favorite comfort food happen to be broccoli and cheese soup? This cheesy vegetable chowder is just like it, but with a twist: it has even more vegetables.
Teriyaki Chicken: Teriyaki chicken is a favorite in many households–and now, you can make it in your slow cooker. Just throw all the ingredients together and get ready to enjoy it from the comfort of your kitchen.
Tomato Basil Parmesan Soup: Sure, you've been eating pizza when you want your Italian fix, but what if you could come up with a healthy alternative that doesn't require a visit  from your favorite delivery boy? Try out a tomato basil Parmesan soup to add a little Italian flare to your kitchen.
No matter what you're looking for in a soup or stew, there's a slow cooker option for you. Keep fresh bread on hand (it will keep in the freezer if you need to buy in bulk or buy ahead; just set it out on the counter while you're throwing together the soup in the morning) and you've got a full meal right there, waiting on you when you come home.
Do you have any slow cooker meal suggestions? Let us know about them in the comment section below.